Yes!  Vegan Dark Chocolate Fudge!!  And it tastes unbelievably authentic (aka, anything but vegan) ??
Taste?  Dark, rich and oh so indulgent.
Texture?  Melts in your mouth.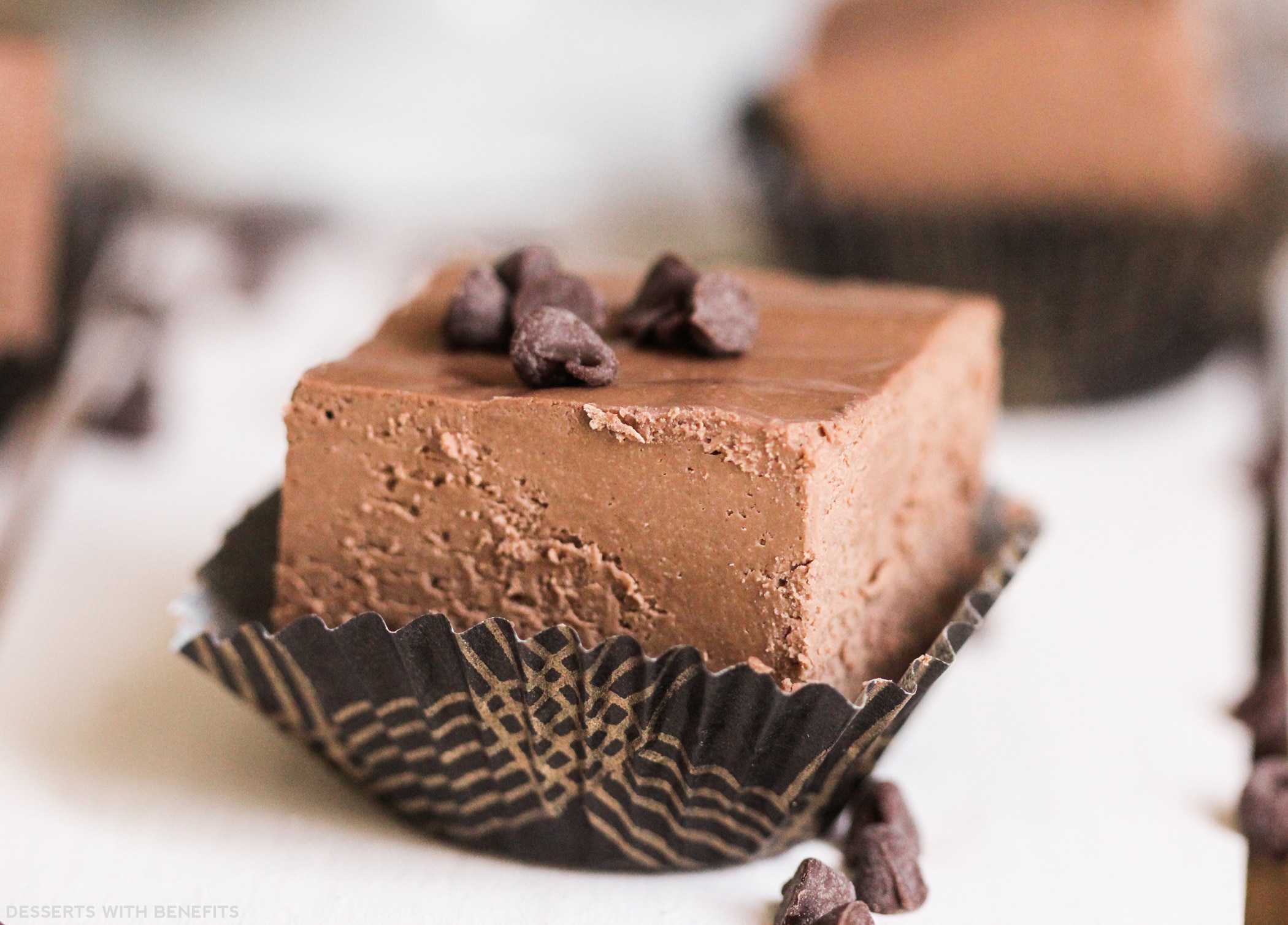 A few years back I posted a recipe for a Vegan Dark Chocolate Fudge but I felt like it could've used some improvement and a whole lotta simplification.  My old recipe required lots of steps and after a few batches, I got sick of the process of making them and stopped…  *gasp*
This new and improved recipe tastes better, looks better, and is 100% simple, easy deliciousness.  It's almost criminal how fast it can be put together (hint, it's made in a blender)!
But onto the good stuff:  FUDGE — fantastic, deep, dark, decadent VEGAN Fudge.
To celebrate my father's birthday today! ????  Happy Birthday old fart Dad ?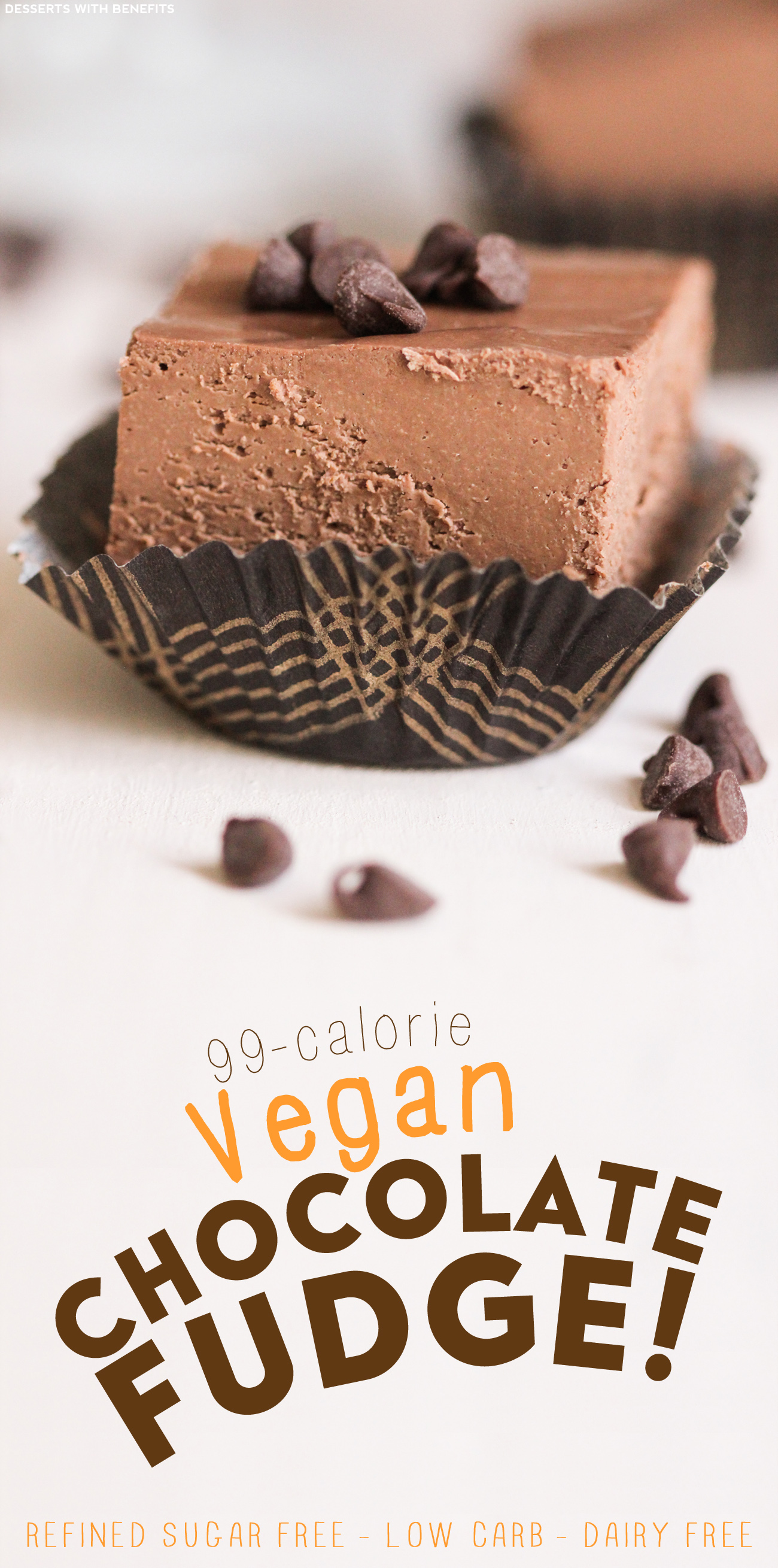 As a kid, the only birthday I cared about was mine.  What cake should we order?  What presents will I get?  Who will come to the party?  What should I do for the party??  And so on.  I used to like big, fun, loud, obnoxious parties (you know, the whole laser tag, screaming, running around from a sugar-high kind of thing?), but now I prefer low-key get togethers with homemade HEALTHY cakes, a movie or two, and laughs until 3am.
Maybe I learned this from my parents.  They prefer small and cozy celebrations — nothing too formal, nothing too "out there" crazy — they want something special, memorable, and filled with love ?
Too bad my father's birthday is on a Tuesday because he has to work and can't stay up late because he works tomorrow too.  When our birthdays fall on a weekday, we will get together the weekend before or after and do whatever the birthday person wants.  My mom and sister like to go shopping and then the movies, I like to stay at home and bake alllll day and indulge while we watch our favorite TV shows, and my dad (the odd one out) likes to go to the gym and get all of us to attend a workout class together, then go home, relax, watch some TV, and then go out to one of his all-time favorite restaurants.
This year, we all hung out at my place over the weekend.  I got to try out Louis Jadot Wines and serve it to my wine-obsessed parents.  Even though I'm not a wine connoisseur like them, and I'm sure my parents were hesitant of any wine that I would bring to the table (they would probably assume I'd get something made in Kansas or something, not Italy, California or France ?), my parents were pleasantly surprised.  They loved it!
Jadot is the #1 brand of French wine in the United States and, since its founding in 1859, it has earned a reputation as one of the most revered wine houses in Burgundy.
*pats self on shoulder*
Yup, I made a great choice.
I also provided some bite-sized dessert pairings.  My parents like red wine and I like white wine (and dessert wine, obviously).
For them, I made Healthy Vegan Dark Chocolatete Fudge and provided some of my favorite no-sugar-added milk chocolate and dark chocolate with almonds.  Anything chocolatey, dark, rich, and decadent (like Chocolate Cake) would pair amazingly well with a great red wine, such as Jadot.  Their Beaujolais variety has maximum color and tannins, along with notes of raspberry, strawberry, black cherry and black pepper.
For me, I feel as though White Wine pairs better with simple and sweet desserts (like Vanilla Cake or Red Velvet Cake).  You know, nothing too complicated.  A bowl of fresh strawberries and a few bites of chocolate will do just fine.  Jabot's Macon-Villages Chardonnay has elegant, clean, fresh character.  It has a floral scent with apple and citrus aromas.
I know what I'm about to recommend isn't the TYPICAL dessert pairing, but my dad isn't too crazy into sweets, but will always say, "YES!" to anything with dark chocolate and peanut butter.
Wait, peanut butter with wine?  Weird, Jess, that's just weird.
BUT LET ME EXPLAIN!  I made a batch of Healthy Peanut Butter Brownies along with some Healthy Peanut Butter Pound Cake.  If you follow me on Instagram, then you saw my posts on them.  And, they both strangely work well with wine.  One bite of brownie, a sip of wine.  One bite of pound cake, a sip of wine.  It's delicious.
Try it out and let me know your thoughts.  If you're peanut butter obsessed like us, I think you'll agree!
If you make this Healthy Vegan Dark Chocolate Fudge, now you know without a doubt, it pairs veeerryy well with a full glass of red wine! Jadot is the perfect wine for your fun summer parties.  It's so versatile, it pairs well with all sorts of sweets and treats — from Chocolate Cake to Vanilla Cake, even Peanut Butter Brownies…  and this Healthy Vegan Dark Chocolate Fudge of course.  This fudge is also the perfect summertime treat because it's easy to make, doesn't require any baking (yay, you don't have to turn on the oven!), and is a 100% delicious crowd-pleaser.
18 pieces
Healthy Vegan Dark Chocolate Fudge
Ingredients:
Directions:
Notes:
Be sure to follow @DessertsWithBenefits on Instagram!  If you try this recipe, make sure to snap a picture of it, tag me @DessertsWithBenefits, and hashtag #DessertsWithBenefits.  I'd love to see it and feature you on #FanFaveFridays!
.
Here is the recipe's nutrition label:
Nutrition Note:  This Healthy Vegan Dark Chocolate Fudge recipe is dairy-free so everyone can enjoy this antioxidant-filled treat.  Woohoo!  Yet another reason to whip up a batch… RIGHT NOW.
Chompity chomp chomp.
So incredibly rich, so incredibly…  fudgy.  Doh.
It was torture taking these pictures, by the way.  I just wanted to eat every piece of fudge in front of me in five seconds flat.  Which I did right after this photo.
Make this now.  I DARE you to beat my "gobble-down-some-healthy-vegan-fudge" record time!
Until then…
POP ?
Pour.
Clink.
Drink ?
.
– Jess
???
.
This post was sponsored by Maison Louis Jadot via One2One.  All opinions are mine and mine alone!
Thank you for supporting the sponsors that keep Desserts With Benefits going ?